Courtside with Arike Ogunbowale
An unfiltered Q&A with WNBA players — past and present.
Hello and welcome to Courtside.
Take a break from the game. Pull up a chair. Settle in. Have some water. And relax. 
As often as I can, I'll be bringing you honest, revealing and fun Q&As with some of the greatest players in WNBA history as well as rookies, veterans and All-Stars in the league today. 
Now, let's get to the conversation.
---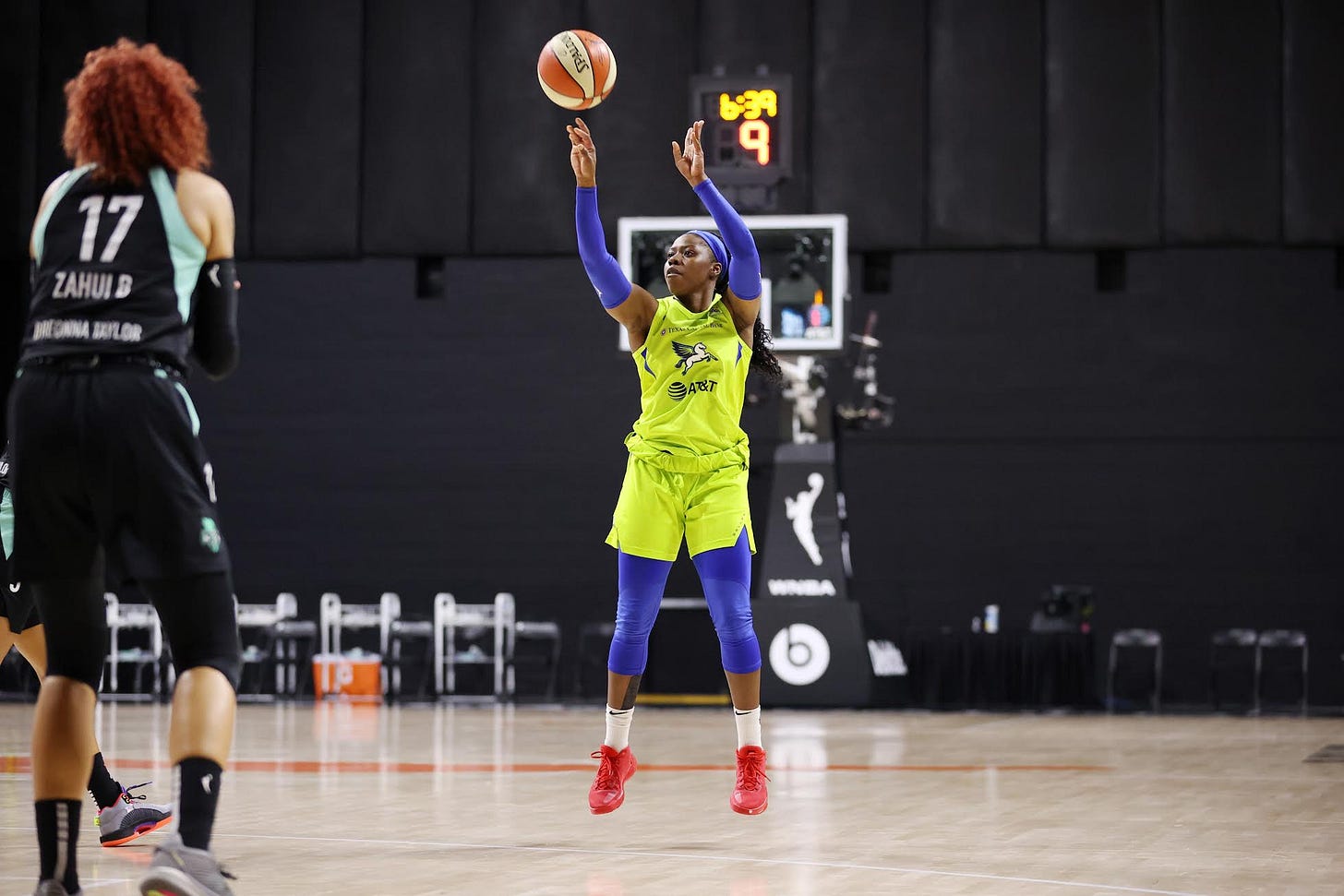 NBAE/Dallas Wings
Arike Ogunbowale, 23, is a WNBA scoring champion (2020), All-Rookie Team member (2019) and sophomore shooting guard for the Dallas Wings. She played her college ball at Notre Dame under legendary and former women's basketball head coach, Muffet McGraw. While playing for the Fighting Irish, Ogunbowale scored over 2,000 points (2,389) on 55 percent shooting and averaged 17 points per game. The Wings drafted her fifth overall in the 2019 WNBA Draft.
"She's the face of our program. I think when you look at what she's done over the past four years, it's been fun to watch her grow. It's been fun to see where she's come since her freshman year and how she gets better every year. Passion for the game — you know when she gets the ball in transition, she's just so exciting. She's fun to watch.

I've really enjoyed coaching her. She's taught me a lot of things about being fearless, about letting things go. I think she's left a mark on the program that will last forever. She'll be up in the rafters one day soon. And I couldn't be prouder of what she's accomplished here."

— Former Notre Dame women's basketball head coach, Muffet McGraw in February 2019 after Ogunbowale broke the Notre Dame women's basketball all-time scoring record (The Next: Women's Basketball)
Ogunbowale averaged 22.8 points per game for the 2020 WNBA season, winning the scoring title outright in just her second year as a pro. A dynamic scorer, she is known for hitting big shots throughout her career at Notre Dame — especially in the NCAA Tournament:
---
How do you feel your overall game has improved from last year this year?
I think I'm playing a little bit more controlled. Last year — obviously I had a lot to learn about the game and I still do. The WNBA game is a lot different than college. I would speed up a lot of stuff faster than I needed to, but now, you know, I have a year under my belt. I'm more comfortable, I'm little bit more poised and calm. You know, I can pick and choose, and I can read stuff better, I just let the game come to me a little bit more. I've slowed it down. 
You're only in your sophomore season but already a leader on a very young team. How have you been able to embrace and handle that role?
Yeah, I mean I think it helped last year where I kind of had to get quicker to that role a little bit early. I wasn't as vocal and didn't lead as much as I do now, but I definitely got a taste of that last year. We only brought five people back from last year and we have a lot of new players. And a lot of us are first and second years. So I guess, on this team, I'm one of the people who has been there before. I know Dallas a little bit more. And I've been trying to pick that leadership role up a little bit. 
What are your thoughts on the season so far and how all of the rookies on your team have been able to adjust to the grueling schedule?
Yeah, I think it's easiest for rookies because they don't know any different. This is their first year, you know, doing everything. So they just got to fall into line with that. But playing-wise, I think they've played really well. You know, they've all helped us in ways —  obviously Satou, she's another go-to player, Tash is another ballhandler that we didn't have and she's really, really good, Bella, who's a great post player and will be great in this league. So I'm super excited for them. I mean, we're all on these contracts so we're stuck for at least three more years. We might as well go with it (laughs) and be together. Yeah, I think we're building something great here. 
Has this team been able to bond easier with all of the new faces on the roster, because of being in the Wubble and around each other so often?
Oh yeah, for sure. We'll have people over at our place or you know, everybody's been doing those beach trips — which we probably wouldn't be able to do at our respective apartments or whatever. Yeah, we've been together a lot more. It's been good, especially with a young team like us. It's forced us to build chemistry quicker, which we might not have gotten if we were in Dallas and everybody had their own apartments and other lives to do. Like, this is really our life right now. So we're around each other a lot, we've learned [about each other] a lot, you know it's just really good for us. 
What kind of potential do you see in this young Wings team for the long term?
Oh, I mean. A lot the games that we've lost have been really close. Mostly every team has one vet or two, and we literally have none. Like our oldest vet is four, five years or whatever it is. So for us to be competing with these great teams and just falling short, a lot of that is youth. As we get older and our first-years start playing all together, even next year — after having this time playing together — we can only get better. For us to be pretty good right now at a young age, and we barely know each other, barely know the game, a lot of first and second years, it can be really good. 
What do you do to unwind and take time for yourself in the Wubble?
You know, I watch Netflix a lot. I really just chill and watch Netflix. Be on my phone. Nothing major really. Just relaxing.
What's something about you that people would be surprised to know or wouldn't expect?
Hmmmm. That's a great question. Um . . . I don't know (Laughs). I mean, I don't do much. I play basketball and when I'm home, I'm usually with my dogs. I really don't do anything. 
What's your guilty pleasure? Could be a song, movie, food, etc.? 
Candy. I love candy. It's bad. I'm very versatile when it comes to candy. 
What's your go-to hype song before a game?
Fabricated by Lil Durk
---
Spread the ball around
If you enjoy Courtside and the additional insight into WNBA players on and off the court, pass it along to a few of your WNBA-loving friends. They might enjoy it, too!
Get in touch
If there's a player you'd like me to have a Courtside chat with, let me know. And if you have any burning questions you'd like them to answer, suggest one or two. I will try to slip it into the conversation! 
Email: LynsD21@gmail.com