Courtside with Chelsea Gray
An unfiltered Q&A with WNBA players — past and present.
Hello and welcome to Courtside.
Take a break from the game. Pull up a chair. Settle in. Have some water. And relax. 
As often as I can, I'll be bringing you honest, revealing and fun Q&As with some of the greatest players in WNBA history as well as rookies, veterans and All-Stars in the league today. 
Now, let's get to the conversation.
---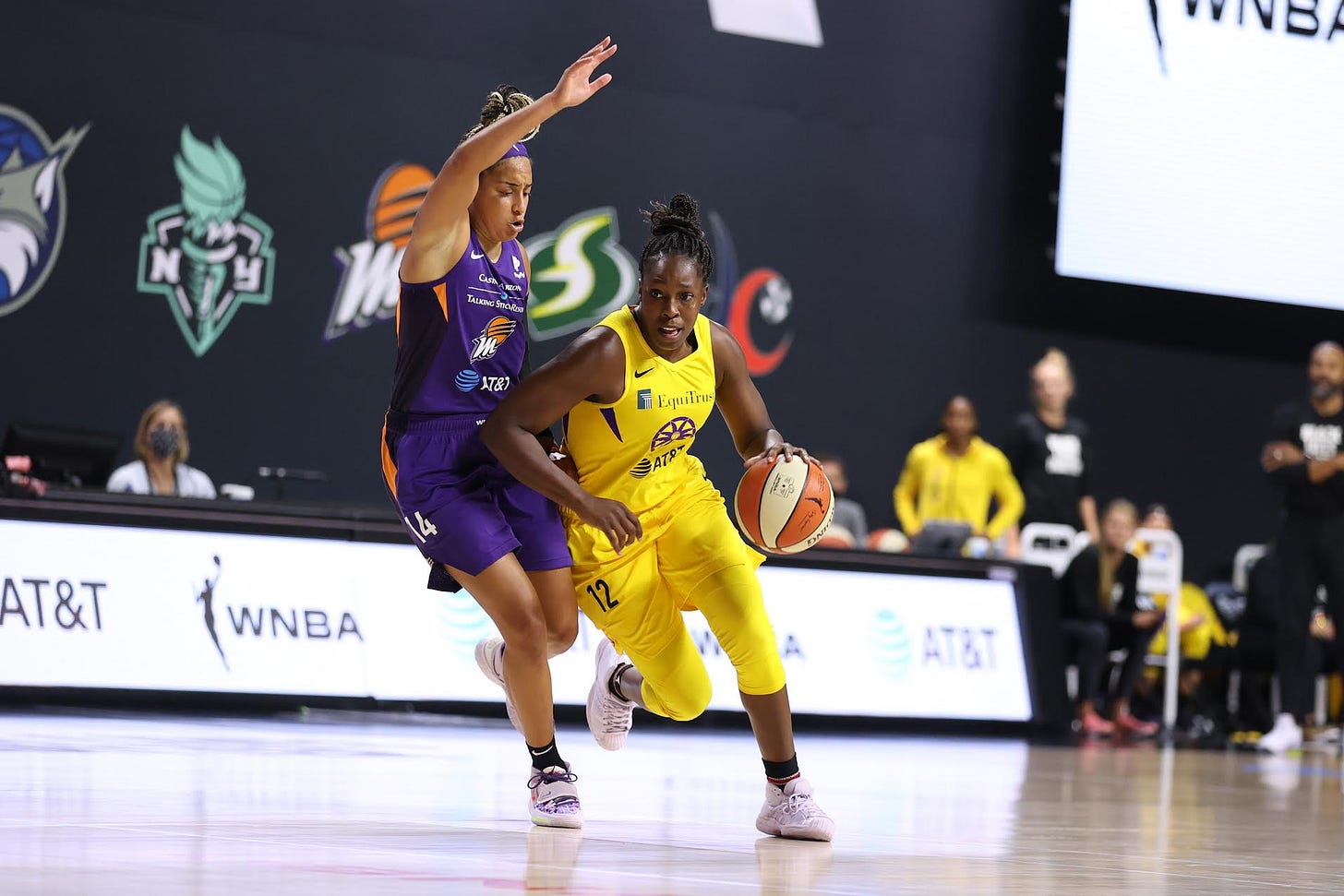 Getty Images
Chelsea Gray, 27, is a three-time WNBA All Star (2017-2019) and WNBA Champion (2016). The six-year veteran was drafted 11th overall by the Connecticut Sun in the 2014 WNBA Draft. After a series of injuries and suffering a season-ending knee fracture during her senior year at Duke University, Gray was unsure if she'd ever be able to play basketball again, let alone get drafted to the pros. She underwent a two-year rehabilitation process and finally made her WNBA debut for the Sun in 2015.
"It is hard to describe it in words. For all that Chelsea has been through. For the Connecticut Sun to understand her value and how terrific she is, it is absolutely incredible."

— Former Duke head coach Joanne P. McCallie, after the 2014 WNBA Draft
In 2016, Gray returned to her California roots after being traded to the Los Angeles Sparks and won her first WNBA Championship that same season. Throughout her career in both college and the pros, she's been known to hit a few clutch shots, like this:
Gray is currently averaging 12 points — tied for second-leading scorer on the Sparks roster along with Riquna Williams and Nneka Ogwumike — and five assists per game. We talked about the free agent additions (Seimone Augustus, etc.) to the team this season and how they fit in so well, her long recovery from her knee injury, the best and worst part about playing a shortened season, and more.
---
You had a pretty severe knee injury at Duke that kept you out of basketball for two years. What was the recovery process like for you, and how did it feel to finally get to play in your first WNBA game in 2015?
The recovery process after I injured my knee was super difficult. First of all, I didn't know if I was going to continue playing basketball. I had made the decision that I wanted to try and get back healthy and try to start playing again. I just didn't know what my career would look like because I had been injured a couple of times. So, my injury report was quite lengthy (laughs). I didn't really know what to expect and then I got drafted to the Connecticut Sun and had to sit out that year because I was still rehabbing my knee. 
Then, putting on that WNBA jersey for the first time in 2015 — it was like, finally I made it. It didn't matter how many minutes I was going in, how good, bad or in between I did, it was just the fact that I was finally able to put on a WNBA jersey, especially with all of the injuries and the career I had in college. I was just ecstatic for that process. 
You never got a real chance to establish yourself with the Connecticut Sun, because they traded you to the Los Angeles Sparks after only one season. Looking back, how did you feel about the trade at the time? And how do you view it now?
I was excited for the trade. It was exciting to go back to California and play, and be able to play with the likes of Alana Beard, Nneka (Ogwumike), Candace (Parker). It was just an exciting moment for me. It was like, I'm coming home to play, you know? I had been on the east coast at Duke for four years, and just finally being able to come back and play in California was amazing. 
You know, it ended up working out. [The Sun] got Jonquel Jones, who in her own right has had a good career thus far. And I was able to learn from some of the best and just come into my own and really figure out what kind of player I wanted to be at the next level, and I've been able to do that.
You're a key part of the Sparks core — what makes this team's chemistry so good?
The team chemistry is just so good because we hang out with each other on and off the court. So, learning each other — the chemistry, the comradery — it forms, not just during games and during practices, [but] like having conversations and film sessions and joking before and after games, and things like that. So, kind of just understanding your teammates. And then a few of us being here for multiple years, you know, you get to know each other's strengths, weaknesses, what makes them tick, what makes them laugh, their habits and things like that. So, you kind of figure it out as you go along and it just transfers over to the court. 
How have free agent adds Seimone Augustus, Brittney Sykes and Kristine Anigwe helped to elevate this team to another level this season?
Having the free agents and adding Seimone, Sykes and Kristine — it's been great. Seimone, you know, I've been going head to head with her. We've guarded each other the last few years in the Finals and even during regular season and it's good to finally have her on this side. She brings that vet experience, you know, saying those things when it needs to be said, kind of getting our butts in gear and kind of bringing that fight, that confidence to our team. 
And then Sykes, you know, her versatility, her length defensively, she's hard to matchup with — in the open court, especially. She brings a defensive capability that we appreciate. Being able to pressure the ball, being able to guard the point guard but then switch to a three or four. That really helps. And then off the court, you know, she's a goofball and we love that.
Kristine, you know, she's the baby of the group. And she's just learning and absorbing and just going out there and playing, and doing it at such a good level. She wants to get better. I joke with her all the time, just wanting the best for her. I see a lot of potential in where she could go and she's just like a sponge. She's just trying to go out there and do the best she can. But those three in particular, it's been great to have them as new additions on our team and they fit right in. 
What's been the most difficult part about playing a shortened season in the Wubble?
The most difficult part about playing a shortened season, I mean — there's not really breaks in between. We had six games in ten days, so just kind of figuring out how to manage our bodies and get the best out of ourselves is key.
What's been the best part?
The best part, I would say, is not traveling. That really makes a difference. Not having to travel from California to Atlanta, then to New York, then to Connecticut, then back to Minnesota, then finally back home for two days. Like, traveling puts a lot on your body so you're able to just go straight to your apartment, hotel room, whatever and just chill but also recover. And not have to worry about catching a flight the next day.
What's something about you that people would be surprised to know or wouldn't expect?
One thing I would say is that I'm a big cooking person. Like, I like to try different things. I love to cook, it's like my happy place. Whenever I have a bad game and we're off, I want to cook something. I love cooking for others — it's hard to cook for one person. So I love to cook and try differing things.
What's your guilty pleasure? Could be a song, movie, food, etc.? 
A show, I would say Shameless. That's one of my guilty pleasures right now that I've been watching in the Wubble. Also, I love ice cream. So I would say ice cream and Shameless, put them together — guilty.  
What is your go-to hype song before a game?
Yay Area by E-40 
I'm Cali born and raised, and I spent a lot of time in the Bay area. So, I've got to go with E-40. 
---
Who's got next? 
• Longtime WNBA veteran and Indiana Fever cornerstone, Candice Dupree
• WNBA legend and current sports agent, Ticha Penicheiro 
• Seattle guard and spark plug, Jordin Canada
Subscribe now, so you'll always be in on the conversation.
Spread the ball around
If you enjoy Courtside and the additional insight into WNBA players on and off the court, pass it along to a few of your WNBA-loving friends. They might enjoy it, too!
Get in touch
If there's a player you'd like me to have a Courtside chat with, let me know. And if you have any burning questions you'd like them to answer, suggest one or two. I will try to slip it into the conversation! 
Email: LynsD21@gmail.com