Hello and welcome to Courtside.
Take a break from the game. Pull up a chair. Settle in. Have some water. And relax. 
As often as I can, I'll be bringing you honest, revealing and fun Q&As with some of the greatest players in WNBA history as well as rookies, veterans and All-Stars in the league today. 
Now, let's get to the conversation.
---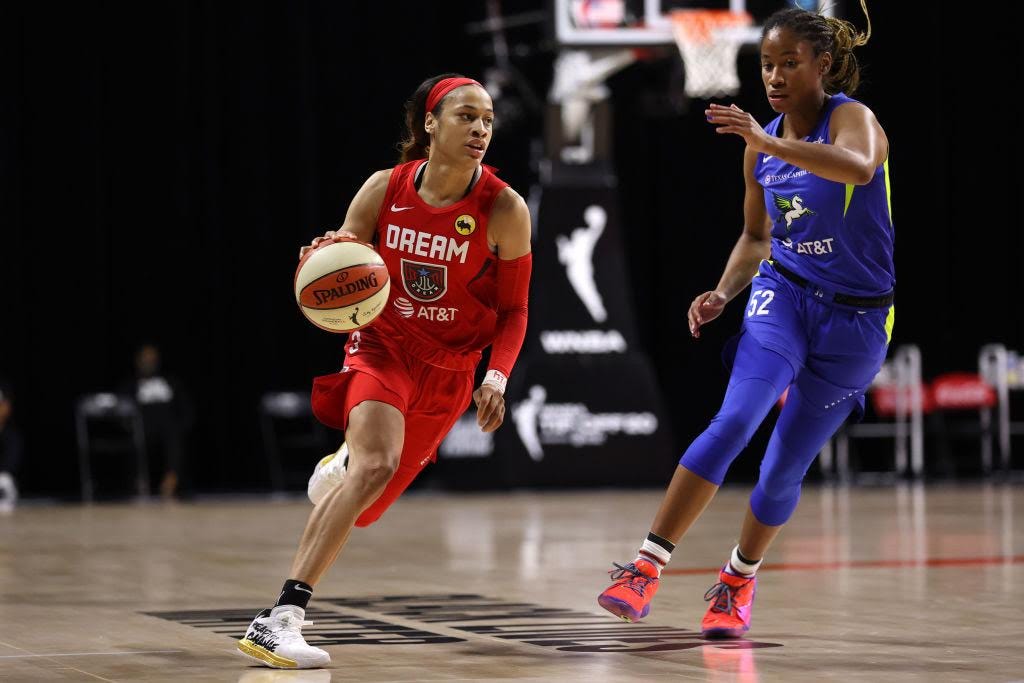 Ned Dishman/NBAE via Getty Images
Chennedy Carter, 21,  is a dynamic rookie point guard for the Atlanta Dream. She was drafted fourth overall in the 2020 WNBA Draft out of Texas A&M University as a junior. During her three years with the Aggies, Carter averaged 22.5 points and four assists per game. She is both a three-time All-American and first-team All-SEC player, and only the second player (Elena Delle Donne at Delaware is the first) in history to lead the NCAA Tournament in scoring average in back-to-back seasons. 
"I've never had a guard that can create offense as fast and efficient as Chennedy does for herself and others with her passing and ball handling. She will become a great pro because of her passion and her quest to improve her game in every aspect." 

— Texas A&M women's basketball head coach, Gary Blair
In an impressive WNBA debut with the Dream, Carter scored 18 points, snagged five rebounds and dished out eight assists. She also had a steal and a block. I spoke with Carter about that first game and a whole lot more.
---
Were you anxious before your first official WNBA game?
I won't say anxious. Really, I was just excited that it was finally here. I think this was a moment that I have always been waiting for. So, there was no nervousness and no jitters. I was just ready to play. To even be in a WNBA uniform — that really was a special moment for me and my teammates. 
How did it feel to finally be out on the court with your new team and competing at the pro level?
It's crazy. For me, I haven't been able to play a game since my last tournament in college. So for me to be able to get out there and finally get up and down with my teammates, plus just putting in all the work in training camp. It felt pretty great to be out there. It's still surreal to me that I'm actually a professional, but it was a good feeling and experience. 
What's the best and worst thing about being in the Wubble?
The best thing is you just have time to yourself and time to really spend with your teammates. I mean, there's so many people here. So, you can get good advice from the vets. What I'm loving is the fact that I can hang out with some teammates from previous USA teams, even AAU teams. 
The worst thing for me is just being away from my family and friends. It's kind of hard not ever getting a quick little breather. The time away is kind of hard, but I'm getting through it. 
Did you feel you were overshadowed going into the WNBA Draft, and the build-up of the 2020 season, with all of the Sabrina Ionescu hype?
I mean, it's pretty much hard to say. I think when you have a player like [Sabrina] and you have someone like me, it's pretty hard. But if I'm being completely honest, yes. It was kind of difficult just seeing so much publicity around one person. I mean, we're trying to publicize Black Lives Matter, you know, women's sports being broadcast, period. So we should be promoting all women who are great at what they do. 
It is a little bit frustrating for me because I work hard at what I do and I put the time in. And I want the credit I deserve. You know what I'm saying? Some people, it's handed to them. They get all of that. Me, I have to work every single day to get that so, yeah, it was pretty difficult. But I'm a person that loves being the underdog. I love being at the bottom. You know, I love proving people wrong. I've been doing that my whole life. So this situation is no different than it was in college. She typically got all of the hype. But we just have to stay in our own bubble, stay within our system. I feel like I'll be so much better because I'm a professional now and I'm dealing with a team that is really, really good at what they do.
What WNBA player did you grow up emulating?
Definitely Maya (Moore), Sue (Bird), Jia Perkins — my cousin. Those three are just the three that have always stuck in my head. Sue is such a natural player. She can shoot the three from anywhere and it's just God-given. Her jumper is really fire. She's one of the people I looked up to. My cousin, I wanted to follow in her footsteps with the family. So finally being here in the WNBA after she won a championship (with the Minnesota Lynx) is really amazing. And then for Maya, it's just — she has an all around game. And that's what I'm trying to bring. Those three are definitely the biggest role models I look up to in my life. 
Which player are you looking forward to squaring up against most?
I don't think I'm looking forward to squaring up against anyone. I'm just looking forward to playing with my team, because at the end of the day it's a team sport. So the better team wins. I'm interested in playing everybody.
What's something about you that people would be surprised to know or wouldn't expect?
I'm really nice (laughs). I know I get rowdy on the court but that's because, man, I love this game. I play with emotion. Outside of basketball, I'm pretty funny, chill, laid back. I like to play NBA2K. I like playing video games. I like shopping. You know, I'm pretty normal. You just have to have a conversation with me outside of ball to really get a laugh. 
What's your guilty pleasure? Could be a song, movie, food, etc.?
Sometimes I have a bad habit of snacking. Like, going back to the candies and the certain foods that I shouldn't eat. For instance, one of my guilty pleasures is Whataburger. I love, love, love my Texas Whataburger. Right now, I'm dying because I can't have any.
What's your go-to hype song before a game?
Social Distancing by Lil Baby. That's the go-to. 
---
Who's got next? 
• Former WNBA legend and new Duke women's basketball head coach, Kara Lawson
• All-time leading rebounder in the history of the WNBA and Minnesota Lynx center, Sylvia Fowles 
• Longtime WNBA veteran and Indiana Fever cornerstone, Candice Dupree
Subscribe now, so you'll always be in on the conversation.
Spread the ball around
If you enjoy Courtside and the additional insight into WNBA players on and off the court, pass it along to a few of your WNBA-loving friends. They might enjoy it, too!
Get in touch
If there's a player you'd like me to have a Courtside chat with, let me know. And if you have any burning questions you'd like them to answer, suggest one or two. I will try to slip it into the conversation! 
Email: LynsD21@gmail.com