Courtside with Kara Lawson
An unfiltered Q&A with WNBA players — past and present.
Hello and welcome to Courtside.
Take a break from the game. Pull up a chair. Settle in. Have some water. And relax. 
As often as I can, I'll be bringing you honest, revealing and fun Q&As with some of the greatest players in WNBA history as well as rookies, veterans and All-Stars in the league today. 
Now, let's get to the conversation.
---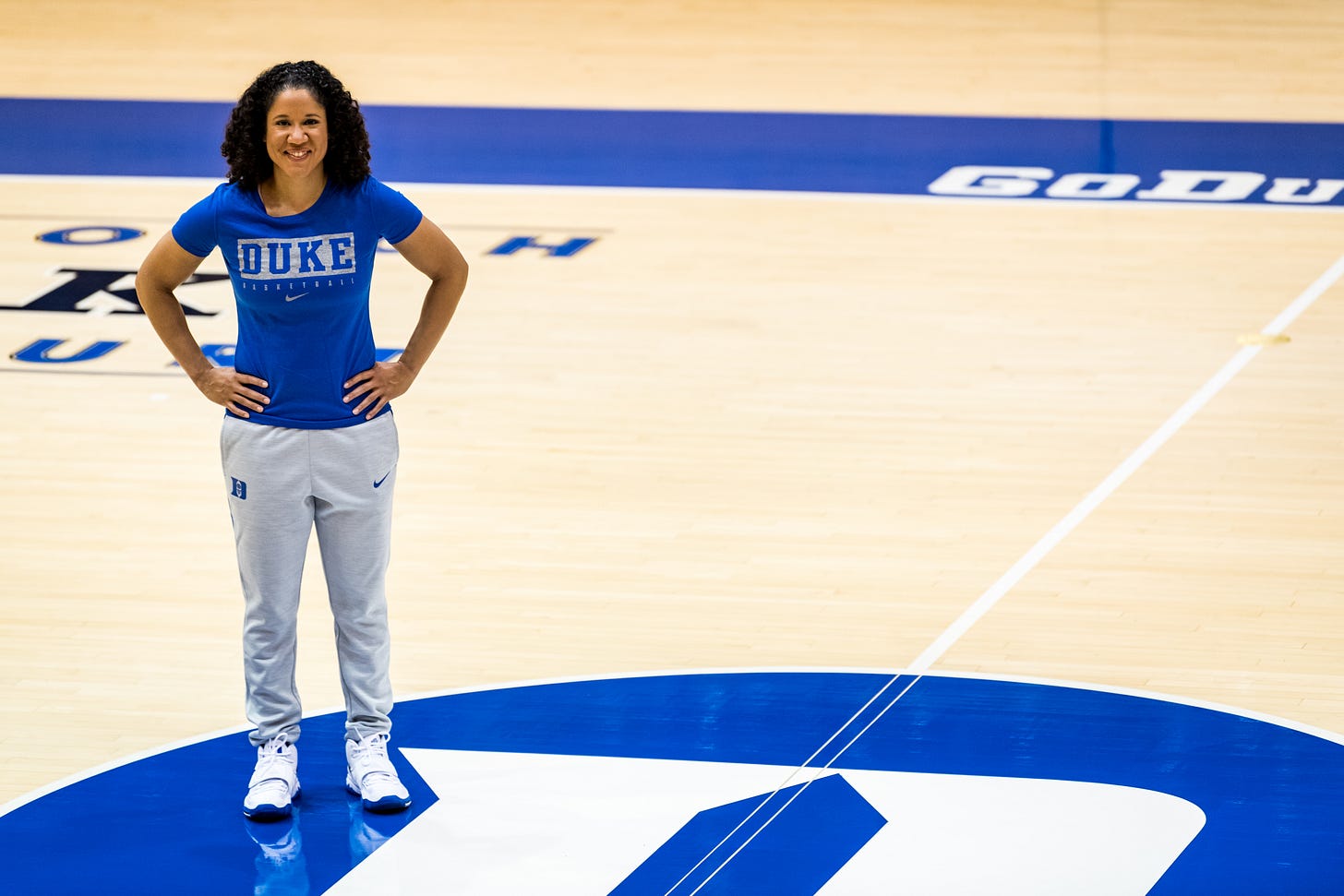 Duke Athletics
Kara Lawson, 39, is a former WNBA player, college and pro basketball analyst, and NBA assistant coach. After playing four years at the University of Tennessee under the venerable Pat Summitt, Lawson was drafted fifth overall by the Detroit Shock in the 2003 WNBA Draft. A week later, she was traded to the Sacramento Monarchs and spent seven seasons there, winning a WNBA Championship in 2005. Lawson also played for the Connecticut Sun and the Washington Mystics before retiring after the 2015 season.
"I told her to go down there and have fun. Kara's so serious about everything. And she's so incredible competitive. I told her, your team put you in this position, to think you had to make plays every game and constantly make plays. She has been an awesome leader. She's been like a mother hen."

— Pat Summitt in 2002, talking about Lawson before the NCAA Final Four Semi-Final Game against UConn
During her playing career, Lawson began working as a basketball analyst for the WNBA and NBA. In 2007, she became the first woman to serve as a national analyst for an NBA broadcast. Since stepping away from basketball, Lawson has appeared as a studio and courtside analyst for countless WNBA, NBA and college basketball games. In 2019, she took on a new role as an assistant coach with the Boston Celtics and was recently hired as head coach of Duke University's women's basketball program on July 11, 2020.
---
When you look back at your time in the WNBA to where it is now, what are your initial thoughts about the evolution of the league overall?
I mean, I think there's been progress — which is great. That's what you hope. As the league continues to grow, as players continue to improve, as the product continues to improve, awareness continues to improve — all of those things — that's what you look for is those things getting better. You look at benefits and salaries, and all of those things are getting better for players, which I think is a positive. And the group that is a part of the league now is active and passionate about continuing to grow the sport, and to grow their impact. So that makes me feel really good about having been a part of the league. 
What do you think about the young talent in the league right now? Is there a particular player you have your eye on?
I wouldn't say there's a particular player. I watch the league, so I stay pretty connected. For three-on-three USA basketball, we have some WNBA players in that. So, I'm watching them a lot. I just enjoy it. I'll watch any game. The league being 12 teams, there's so much talent. All on one team, right? I mean you can just go down a roster and be like, wow — this team has a lot of really good players, a lot of fantastic collegiate players. So, I just watch it all when I can, obviously. And now, being at Duke, pay close attention the Duke alums.
What was it like to transition from player to analyst, and then from analyst to coach?
I think my first thought might seem a little overconfident, so let's go with pretty natural. I've been around the game my whole life and have loved every part of it. I think as you get older and your time as a player is ending, and I was fortunate to play as long as I did, you naturally shift to what you can do to get back to the game. And one of the most powerful things you can do is be a coach and a mentor to young people— be someone who has experienced what they hope to and help guide them to reach their goals. 
So, the transition for me has been everything I thought it would be. It's been rewarding, emotional, fulfilling and now that I'm transitioning after working in the NBA with outstanding young men to working in college with outstanding young women, I just feel thankful. I feel thankful for those opportunities. 
What did you learn most in your time with the Celtics as an assistant coach?
I would say I learned . . . well, I didn't learn this part, but I would say that basketball is about relationships. And the coach/player relationship is paramount, right, to any team. I didn't learn that, I knew that, having been on the other side of the coach/player relationship for most of my life. Now that you change the side of it, what I learned my first year with Boston is that . . .  I don' t know . . . I don't want to come across as overconfident (laughs). I'm uniquely equipped to build relationships with players and be a great sounding board, and be someone they can talk to about anything. So, I learned that about myself. 
In theory, we can read books about relationships and we can all watch shows or listen to podcasts about relationships — God knows there's a ton of them out there. We can all do that but actually being able to apply it and being able to have those personal relationships with players, that's something I had in Boston — obviously, I'm still close with those guys — and something that I will have here at Duke. And I'm excited for that.
What drew you to the Duke head coaching job most?  
I think it's just the chance to impact — kind of going back to my earlier answer — and the chance to build relationships with young women, a chance to help them in their journey to whatever they want to be. And at a place like Duke, there's so many ways to do that. With the school that we have and the high academic standards, and all of the things we can provided to a student is amazing. 
On the basketball court, just how important basketball is to Duke and the brand that we have, and how much of a great platform it is to play here. And then, I think just the opportunity to run a program is something I've wanted to do for a while. So that definitely played into it — the chance to run a program and have my fingerprints on it.
Is it strange at all going to Duke after playing at Tennessee, and what do you think Pat Summitt would say if she could see you now?
I don't think so. I mean, I think most coaches aren't coaching at their alma mater, right? Dawn (Staley) is at South Carolina, not Virginia. Nikki (McCray-Penson) is at Mississippi State, not Tennessee. I think my background and my experience playing for Pat (Summitt) and why I went to Tennessee is because I wanted to be a coach. I went there to learn from her and to obviously play and improve, but I really wanted to learn from the best coach. And that's what I was able to do for four years. 
I think that Pat would be very excited for me to get this opportunity to run my own program and she would be, you know, really, really — just hoping it would go well and wanting to support me in any way that she could. I saw all that in her when I was playing with her. Obviously, Pat has an extensive coaching tree. Not everybody was at Tennessee, everybody was at different places. That didn't change her love and support of you and of your program. So, yeah. I think she'd be pretty happy about where I am right now. 
What's something about you that people would be surprised to know or wouldn't expect?
. . . everything. I don't know, I mean I'm pretty guarded publically. So, I would say probably not many people know me, know me. 
I would say — I had a lot of WNBA teammates tell me, and this is their opinion — that I'm funny. That I was a lot funnier than they thought before they shared a locker room with me. So, that's not me calling myself funny, I'm quoting other people. 
What's your guilty pleasure? Could be a song, movie, food, etc.? 
I love rom-coms. So, I'll say that. 
What was your go-to hype song before a game when you played in the WNBA?
Just something Kenny Chesney. Anything Kenny Chesney.
---
Who's got next? 
• Longtime WNBA veteran and Indiana Fever cornerstone, Candice Dupree
• Los Angles Sparks guard and clutch shot maker, Chelsea Gray
• WNBA legend and current sports agent, Ticha Penicheiro
Subscribe now, so you'll always be in on the conversation.
Spread the ball around
If you enjoy Courtside and the additional insight into WNBA players on and off the court, pass it along to a few of your WNBA-loving friends. They might enjoy it, too!
Get in touch
If there's a player you'd like me to have a Courtside chat with, let me know. And if you have any burning questions you'd like them to answer, suggest one or two. I will try to slip it into the conversation! 
Email: LynsD21@gmail.com