Courtside with Ticha Penicheiro
An unfiltered Q&A with WNBA players — past and present.
Hello and welcome to Courtside.
Take a break from the game. Pull up a chair. Settle in. Have some water. And relax. 
As often as I can, I'll be bringing you honest, revealing and fun Q&As with some of the greatest players in WNBA history as well as rookies, veterans and All-Stars in the league today. 
Now, let's get to the conversation.
---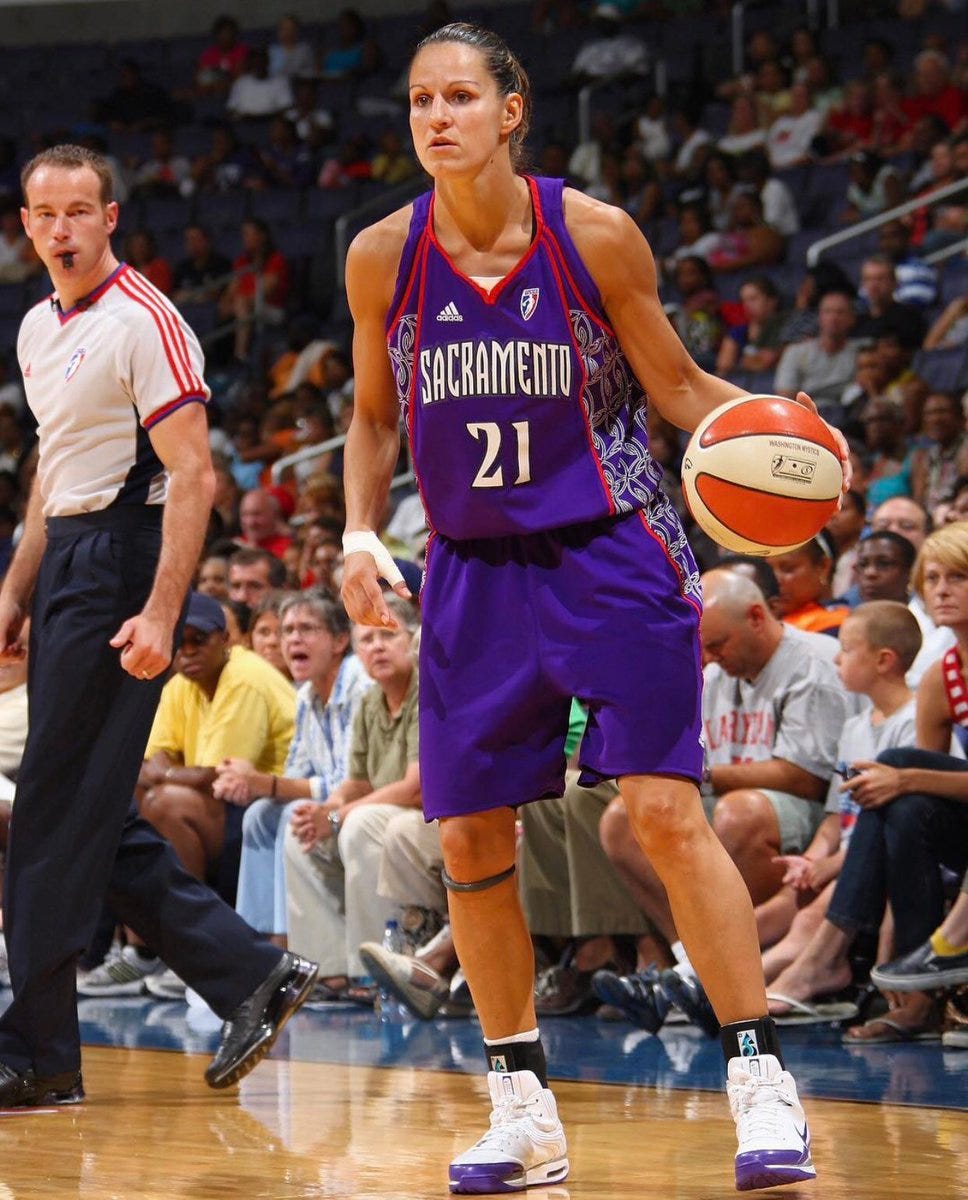 Ticha Penicheiro
Ticha Penicheiro, 45, is a former WNBA player and current agent for Sports International Group, Inc. (SIG). After a standout college career at Old Dominion University, she was drafted second overall by the Sacramento Monarchs in the 1998 WNBA Draft. Throughout her WNBA career, Penicheiro played point guard for the Monarchs, Los Angeles Sparks and Chicago Sky — racking up highlight after highlight with her flashy style and innate passing ability along the way. She is a four-time WNBA All-Star (1999-2002), a seven-time WNBA assist leader (1998-2003, 2010) and a WNBA champion (2005 with the Monarchs.)
"She captivated so many different types of people. Ticha was able to lead by relating to all different types of people. Her willingness to always get connected to the community was something I'll never forget."

— Former ODU Women's Basketball Head Coach, Wendy Larry from 2019
Since retiring from basketball in 2012, Penicheiro has remained close the game. She became a sports agent in 2015 with the goal of providing advice and guidance to young, up-and-coming WNBA players. Her client list includes Kayla McBride and Jordin Canada, among others.
Penicheiro is considered to be one of the Top 15 WNBA players of all time and the highlights speak for themselves:
---
In your view, how has the WNBA changed and evolved since you played — both on and off the court?
Oh, it's night and day. I mean I think the talent — 12 teams, usually 12 players per team, you know. But I think one through 12, the talent is undeniable. We're kind of seeing that this year with some players that don't usually get a lot of playing time. They're getting the opportunity and thriving. 
As far as off the court, I think with social media — and it's not just the WNBA — it's a platform that everybody can use, not just the league but players individually who can really sell themselves, sell the league. And all of these other things that we are dealing with today with social injustice, so it's a platform that you can just grab your phone and be heard. We didn't have that back then. So I think the WNBA is in great hands. I think, it's what, 24 years now that it's been alive and kicking? And I think it's getting better and better every year. So, I'm definitely proud to be one of the pioneers, and now to be a fan and an agent, I get to continue to see the growth of the league.
During your playing days, you made passing an art form. What did you love most about getting your teammates the ball and doing it with such flair?
I just had fun when I played. I mean, I grew up playing in Portugal on the playgrounds. A lot of times, I was the only girl playing amongst boys. I don't know, I just developed — I think a lot of it was natural and instinctual, but I think I just developed a passion for passing. And I just had fun, you know? As I grew older, it was important to determine when the time was right to do it and when it was right not to do it, because sometimes it didn't turn out very well. But I just enjoyed it. Passing was something that gave me tremendous pleasure.
In 2019, Courtney Vandersloot  set a new record high for assists in a single season with 300. What do you like about her game?
I like everything about her game. I enjoy watching her play. She's probably, right now, my favorite point guard to watch. I just think, again — I like her motor, the way she gets her team involved, but she can also take control when she wants to and needs to score. So, yeah, I'm a big fan of her game. We were actually teammates for a year, my last year in Chicago. So to see her growth has been a great pleasure. 
I mean everyone is talking about Seattle, Vegas and L.A., and I think Chicago is probably my favorite because I feel like they're young and they're hungry — you know, because of the way things ended last year. [Courtney] is the head of the snake. So, I think Chicago is in good hands with her.
Who do you think is the best point guard to every play the position in the history of the league and why?
Ah . . . well, I probably have to go with Sue Bird. Her longevity and how she has handled herself from a rookie until now — I mean, obviously injuries have been a little bit a part of her career, because she's had some bumps in the road. But she's 39 and she's still playing at a high level. Her [basketball] IQ is of the charts. Another person that is clutch when you need her to score or pass. It's just her resume. Not just in high school, but then in college and with USA basketball, WNBA, overseas — she's a winner and she has won at every level. It's hard sometimes to just pick one, but I think she would be the one I would pick.
What prompted you to become a sports agent, particularly for WNBA players?
Basketball is what I love and I've loved it since I picked up a ball when I was five years old. So once I retired, I wanted to stay close to the game. And I knew that I didn't want to coach. You know, I kind of gave my life to basketball. I made so many sacrifices, personal sacrifices, that I wanted to be close to the game but also have the freedom to travel to see my family. My parents are getting older, so it's very important to me to spend time with them. 
I just felt like, there wasn't many women representing women at the time. Now there's more, but at the time I made the decision it was a little bit of a man's world. And I felt nobody really had the experience I had. So, I just wanted to not just be agent but also mentor or somebody that can show you the ropes — not just in the WNBA but also overseas. It's a different beast, you know, playing overseas. I've played all over the world, and have that experience. And I can give you advice from my experience, not necessarily what you want to hear but I've been there, done that, you know? I've literally been in your shoes. So, it was just something that made sense. It was a very easy transition. I retired in 2012 and in 2015, I got my license. 
What do you love most about that line of work?
The fact that I'm still involved in the game, the fact that I still watch basketball, the fact that I still go to the games and just interacting with the players, being a helping hand. It's so funny, because the new players always feel like they're bothering me. I'm like, that's what I'm here for. I want you to ask questions, I want you to bother me, you know? This is my job and I want to influence you in every positive way that I can, so you can have the best career that you can have. I've been there, done that and now it's your turn. I want to be somebody who can help you accomplish everything you want to accomplish, not just on the court but off the court. 
What do you look for in a player you want to represent?
I'm big on character, so sometimes even if you are great on the basketball court, I pay attention to other things — like how you interact with your coaches, with your teammate, your body language. You know, stuff that doesn't show up on the stat sheet. To me, it's important to represent players that want to be helped, that want to listen to advice, that want to be great. I obviously want talent, but I also want players who have great character. 
What's something about you that people would be surprised to know or wouldn't expect?
I'm a homebody. I just love my family and my friends, and I love to be home. I'm a basketball fanatic — sometimes I have my TV, my computer, my phone showing all the games, which is bad because you end up not watching any of them. But yeah, I'm just very comfortable being home.
What's your guilty pleasure? Could be a song, movie, food, etc.?
Probably chocolate chip cookies and some, I mean — obviously with the pandemic, saying that you watch all of these shows and sit on the couch and do nothing is probably a guilty pleasure for everybody. Because that's all we have been doing. But as far as eating, my guilty pleasure is probably chocolate chip cookies.
What was your go-to hype song before a game?
Let's Go by Trick Daddy.
Before we came out of the locker room, that was what we played (laughs). We used to turn it up in the speakers and just start bumping each other and run out to the court.
---
Who's got next? 
• Seattle guard and spark plug, Jordin Canada 
• Longtime WNBA veteran and Indiana Fever cornerstone, Candice Dupree
Subscribe now, so you'll always be in on the conversation.
Spread the ball around
If you enjoy Courtside and the additional insight into WNBA players on and off the court, pass it along to a few of your WNBA-loving friends. They might enjoy it, too!
Get in touch
If there's a player you'd like me to have a Courtside chat with, let me know. And if you have any burning questions you'd like them to answer, suggest one or two. I will try to slip it into the conversation! 
Email: LynsD21@gmail.com
---